Michael Bready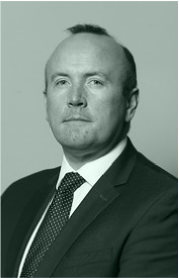 I have been in private practice at the Bar of Northern Ireland since 2000 with a very broad practice including civil & commercial disputes, divorce/matrimonial disputes and family law disputes. I am acutely aware of the strains litigation can place on individuals and companies. The role of the Courts is not defunct by any means, but increasingly the availability of alternative means of dispute resolution is becoming more attractive.

Data Protection Policy
Clients expect businesses to secure their data and treat their information with respect. Barristers are no different and, as such, I want to assure all clients of the care I take with their personal data. With the Briefed Quality Mark in Data Protection I believe I am demonstrating my commitment to the security of personal data.  I genuinely understand how the new legislation impacts upon clients and my own role, and what actions I needed to take in order to help me meet the ongoing compliance obligations detailed within GDPR. I have been trained with the skills I need to understand evolving data obligations, to empower me to identify data security risks and instigate improvements. Consequently, I can provide advise on the GDPR legislation generally and specifically the legal impact on clients and potential claims in this area in respect of data breaches.